Kokoro (こころ, Kokoro?) is the fifth episode of the Tsuki ga Kirei anime series.
Synopsis
Akane and Kotarō want to spend more time together at school, but they can never seem to find the time or space. Chinatsu, meanwhile, seems to have no trouble finding ways to hang out with him.
Characters
Shorts
Plot
One day during summer, Kotaro and Akane met each other in class but are still embarrassed to communicate with one another. Akane then monologues in her heart that she and Kotaro have started dating. Knowing that Kotaro scores poorly in his exams, Ryoko-sensei sometime later call Kotaro to come over to the office tell him that she is concern of his studies and gives him some advice that if Kotaro keeps getting average grade, he might not get his choice high school.
Ending LINE Chat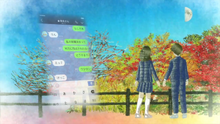 Boyfriend
Me: Hey
Boyfriend: Yeah
Me: If I got a job
Me: And they sent me to another city
Me: How would you feel?
Boyfriend: Huh?
Me: No, just kidding
Boyfriend: Fine
Me: *Shocked sticker*
Me: Huh?
Boyfriend: Made a mistake
Me: Nononono
Boyfriend: Nononono
Boyfriend: I was just trying to ask
Boyfriend: Fine, but is it going to be really far?
Me: Nah
Boyfriend: No?
Me: No what?
Boyfriend: Job offer
Me: Of course not
Boyfriend: Of course
Trivia
The title of the episode Kokoro (こゝろ, Kokoro?) is a novel by Natsume Sōseki that was first serialized in 1914. Even though the title's literal meaning is "heart", it contains different meaning and interpretations such as "the heart of things" or "feeling". 
References