"An Encouragement of Learning" (学問のすすめ, Gakumon no Susume?) is the eleventh episode of the Tsuki ga Kirei anime series.
Synopsis
Kotarō has started studying to go to the same high school as Akane. However, at the teacher parents interview, his secret about going to that school been found out by his mother and collide. Kotarō who is absorbed in studying rarely talk to his mother at home. Meanwhile, Akane passes the recommendation entrance examination.
Characters
Plot
Ending LINE Chat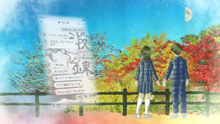 Benippo
Me: Was your mum angry?
Benippo: No, she wasn't
Benippo: I think we're safe
Me: That's a relief
Me: I was so freaked out
Benippo: I'm sorry
Benippo: I didn't think she'd come back
Benippo: Not so soon
Benippo: I thought she'd leave us alone
Benippo: I did make sure tell her we had to revise
Me: But, my notebook
Me: It was empty
Benippo: *Ikr*
Me: She might have suspected something
Benippo: Well. Yes XD
Benippo: She said she wouldn't tell Dad
Me: Am I banned from your house from now on?
Benippo: We'll see XD
(Benippo is the name of the potato doll which Akane and Kotaro have.)
Video
Trivia
References
Ad blocker interference detected!
Wikia is a free-to-use site that makes money from advertising. We have a modified experience for viewers using ad blockers

Wikia is not accessible if you've made further modifications. Remove the custom ad blocker rule(s) and the page will load as expected.